Computer lab
A computer lab equipped with eleven computers with Internet access is available for the students of the department. The lab is used both for teaching which utiliyes the available applications and outside the official teaching hours tthe lab is also available to students for their independent study and personal needs.
The following applications are available:
Optics: OSLO, TracePro, VirtualLab, libRadtran
Design: Inventor Professional, Rhinoceros, RhinoCAM
Development: Dev-C++, Visual C++
Mathematics: Octave, Gnuplot

Other: Mozilla Firefox, OpenOffice.org, Gimp, VLC media player, Vim, NX Client (for remote access to NU/Linux system)
OSLO
Oslo Premium Oslo Premium is a professional program for the design, optimization, and analysis of optical imaging systems. The program allows you to evaluate the beam and wave defects in the refractive, diffractive and katoptric optical elements and systems. Image aberrations can be evaluated using both intersection diagrams, and using basic imaging functions used in wave optics (point spread function, optical transfer function). The program allows to take into account the partial coherence of  light and its polarization state. The system is open and enables the integration of special customized subroutines. In addition to the professional version Oslo Premium, the educational version Oslo Edu with limited functionality is also available. The program has an extensive applications for simulation raz propagation in  inhomogeneous media, simulation of propagation and transformation of laser beams, the teaching of optical imaging, analysis of polarization systems, and demonstrations of the methods of design and optimization of optical systems.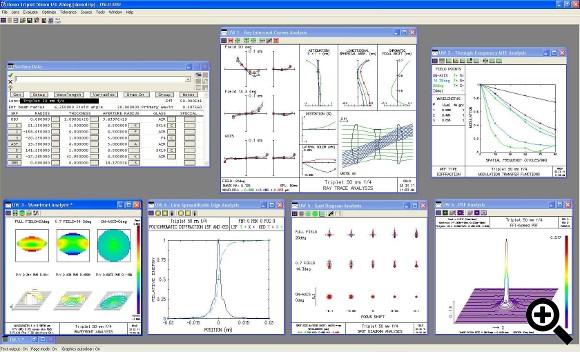 This program is utilized in the following courses:
Optical imaging (OPT/OZ)
Optical crystals (OPT/OK)
Optics of anizotropic media (OPT/ANIZ)
Optical systems 1 (OPT/OS1)
Methods of design of imaging systems (OPT/MNZS)
Beam optics(OPT/SO)
Thin films (OPT/TV)
TracePro
TracePro is a software designed for analysis and synthesis of optical systems combined with light sources. It enables to model and study the mutual effects of light sources, optical elements and detectors in terms of quality of spatial and angular modulation of radiation, its intensity, uniformity and spectral characteristics. In a sense, this software represents a bridge between classical optical design software, such as Oslo, and CAD systems.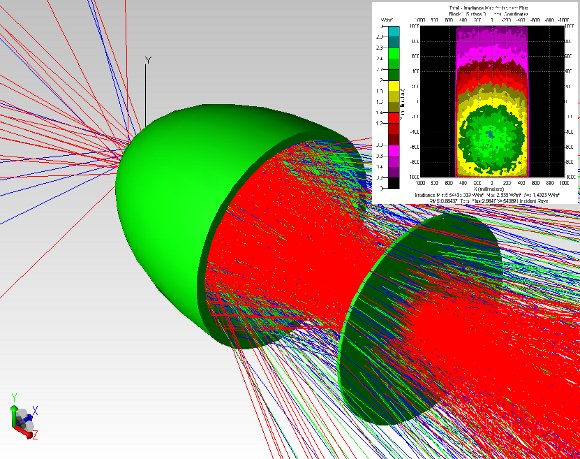 This program is utilized in the following courses:
Optical systems 2 (OPT/OS2)
Energetic optics (OPT/ENO)
Metods of design of energetic systems (OPT/MNES)
VirtualLab
VirtualLab is an optical program that enables advanced simulation of  ray, wave and electromagnetic optics and analysis of virtual experiments. The program includes Starter Toolbox, Diffractive Optics Toolbox, Grating Toolbox and Laser Resonator Toolbox. The program allows you to use a variety of sources and detectors and edit the desired optical path. VirtualLab Advanced version is available for more demanding tasks, which requires a 64-bit operating system. The program is used to simulate propagation and transformation of electromagnetic radiation, analysis of optical imaging within the wave-optics framework, and solving problems in digital optics.
This program is utilized in the following courses:
Wave and ray optics (OPT/VPO1X)
Optical imaging (OPT/OZ)
Beam optics (OPT/SO)
Optics of crystals (OPT/OK)
Optics of anizotropic media (OPT/ANIZ)
Digital diffractive optics(OPT/DDO)
Digital holography (OPT/DH)
Multisim
Multisim is a virtual electronic laboratory in a computer for analysis of analog and digital electronic circuits. It features simple and intuitive interactive controls. The components are divided into groups and they can be modified. The parameters of passive components correspond to real values. Measuring instruments, sources and generators can be connected like in a real circuit. All changes in the interactive mode can be performed during running simulation and one can observe instant responses on the measuring instruments. The program is equipped with a number of virtual components, whose values ​​can be modified at will. Also available are virtual measuring devices (Agilent, Tektronix) represented by their front panels with the controls. Results can be presented using graphs and tables that can be further processed.The program finds an extensive application in the analysis and design of various electronic circuits.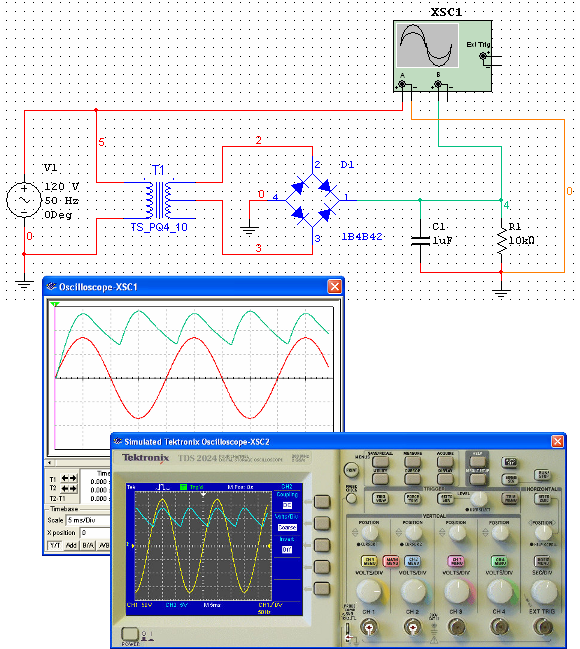 This program is utilized in the following courses:
Elektronics (OPT/ELT)
Elektronic measurements (OPT/EM)
Modelling and simulation in electronics (OPT/MSE)
Tina
Tina is a powerful program for the design, simulation and analysis of electronic circuits. It allows the simulation of analog, digital and mixed circuits. Simulations can be run either in interactive mode or one can use some of the available analyzes (DC, AC, Transient, Fourier, Noise, etc.). The program can analyze DC voltage and currents in the circuits, as well as time-dependent variables and frequency-dependent characteristics. The results can be presented either in the form of tables, and graphs or read off the panels of virtual instruments. Simulation results can be further processed. The program includes a unique symbolic analysis, which provides for certain types of circuits outputs in the form of analytical formulas. The standard library contains a large number of models, and the models of active elements can be modified by the user. Circuit diagrams can be either designed using schematic editor or  specified in a text input file (netlist).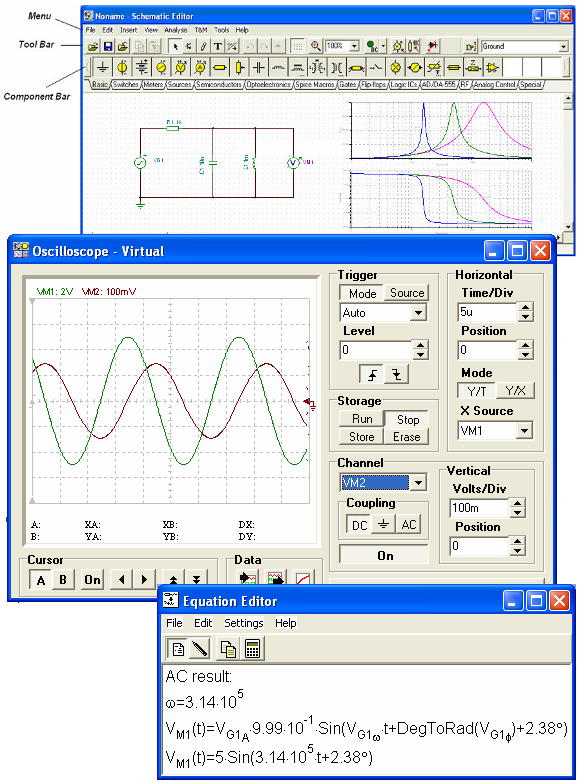 This program is utilized in the following courses:
Elektrotechnics (OPT/ET)
Physics labs 1 (elekctricity and magnetism) (OPT/P1)
Physics labs (elekctricity and magnetism)  (KBF/FP2)
Elektronics (OPT/ELT)
Modeling and simulations in electronics (OPT/MSE)
Inventor Professional
Inventor Professional is used for adaptive 3D modeling and preparation of drawings of optical and mechanical components and assemblies. The system processes the drawings in DWG or IDW format and works also with data formats of other 3D applications.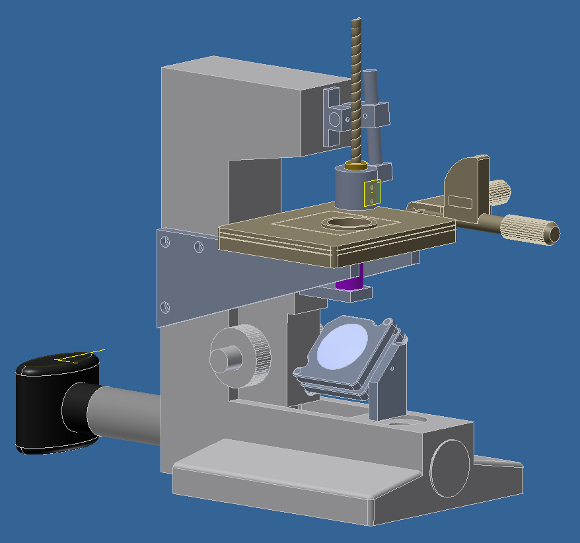 This program is utilized in the following courses:
CAD in optics and fine mechanics (OPT/CAD)